Add:No.14 Shangwu Outer Ring Rd, Zhengzhou, China.
Tel:86-371-65621392
Fax:86-371-86616825
Email:sarah@aluminium24.eu
Flexible aluminium strip rolls for sale
Time:2020-07-13
  Flexible aluminium strip rolls are flat alu belts rather than profiles, made of coil or hot rolled pure and alloy aluminium coils by slitting machines. Although the rolls cover grades of 4 series, including 1050, 1060, 1070, 1100, 3003, 3004, 5052, 8011 etc, the most frequently applied are 1060 aluminium transformer strip and 8011 3003 aluminium cap strip. Commonly used states are O state and H state. O represents a soft state, H represents a hard state. O and H can be followed by numbers to show the degree of softness and hardness, and the degree of annealing.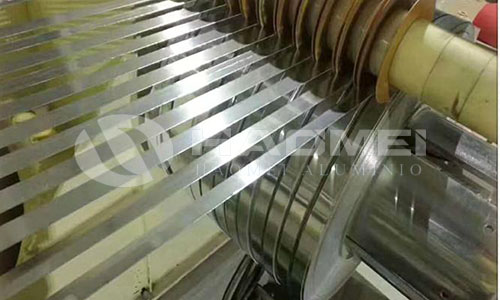 Aluminium strip rolls can form an oxide film to prevent metal corrosion in humid air. The specific uses of the aluminum strip are mainly: transformer aluminum strip (transformer aluminum foil), aluminum strip for high-frequency welding hollow aluminum strip, aluminum strip for fin radiator, aluminum strip for cable, aluminum strip for stamping, etc.
  We produces flexible aluminium strip roll of 0.1mm to 2.0mm thick and 20mm to 1000mm wide, with customized specification acceptable. Available alloys incorporate 1060, 1100, 1235, 3003, 3004, 3a21, 8011, 5052 and 6061. These aluminium strips are further made into bottle caps, shutters, washing machine units, labels, clock discs, channel letters, plastic composite pipes and so on. Supported by mature technology and advanced equipment, we are able to offer low price and good quality to clients from all over the world.
Return to the list page