Aluminium flat metal strips supplier
  Haomei is a 20-year China flat metal aluminum strip supplier offering aluminium metal strips for n95 face mask nose bridge, battery aluminum strips, cable aluminum strips, vacuum brazing aluminium strips and transfer aluminum strips. Specifications and descriptions are as below.
  Aluminium metal strips for n95 face mask nose bridge
  Alloy: 1060, 3003
  Temper: O
  Surface: mill finish
  Thickness: 0.4-5mm
  Width: 90-100mm
  The face mask aluminium strips must be soft enough to withstand repeated bending and straightening of face users within days until the mask is out of service life and discarded. Therefore, O state is adopted in the production. Owing to its short service life, there's little requirement about surface treatment and thickness of the strip.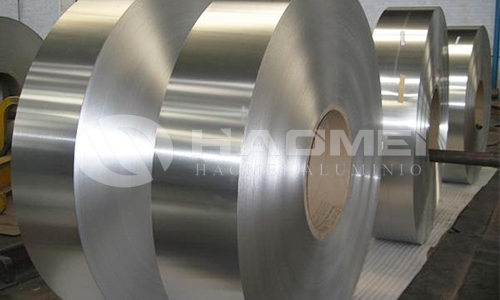 Battery aluminium strips
  Alloy: 1060
  Temper: O
  Thickness: 0.1mm-0.3mm
  Surface: smooth without burs
  Battery aluminium strips function as the housing wrapping battery particle materials, usually black or gray powder like chemical objects. The housing must be strong, plastic and insulating enough to keep the chemical inside without sneaking out, and 1060-O aluminum strips perfectly meet these requirements.
  Cable aluminium flat strips
  Alloy:1100,1200,1050,1060,1070,1235,1200
  Temper: O/H22/H14/H24/H16/H18/H19
  Thickness(MM): 0.006-0.20
  Width(MM): 40-1600
  Cable aluminum strips are more tolerant in either grade or temper. Its thickness ranges proves to be wider, too. The armor layer of aluminum cable strips is lighter than steel tape armor, easier to peel, and convenient to install. It can be installed without bridges and reduce costs. It is suitable for smart grid, urban transformation, subway, nuclear power, railway, airport, construction and other fields.
  Vacuum brazing aluminium strips
  Alloy: 4004,4343
  Temper: O/H24/H18
  Thickness(mm): 0.05-0.20
  Width(mm): 40-1600
  4××× series aluminum strip alloys are aluminum alloys with silicon as the main alloying element. Most of the alloys are heat-treated non-strengthened aluminum alloys. Only alloys containing copper, magnesium and nickel, and some elements are absorbed after welding heat-treated strengthened alloys It can be strengthened by heat treatment. This series alloy has high silicon content, low melting point, good melt fluidity, easy to feed, and will not cause brittleness of the final product. The alloy containing about 5% of silicon is black-gray after anodizing and coloring, so it is suitable for building materials and manufacturing decorative parts.
  Transformer aluminium strips
  Alloy: 1060
  Temper: O
  Thickness(mm): 0.006-0.20
  Width(mm): 40-1600
  Transformer aluminum strips are usually of 1060-O. 1060 aluminium strip boasts good plasticity, conductivity and corrosion resistance, proving to be an excellent material for transformer winding.
Original source: https://www.aluminumstrip24.com/news/aluminium-flat-metal-strips-supplier.html
Tags: aluminium flat strips, aluminium metal strips, aluminum strip supplier,
Previous: Flexible aluminium strip rolls for sale
Next: Alloys and application of flat aluminum strips