Add:No.14 Shangwu Outer Ring Rd, Zhengzhou, China.
Tel:86-371-65621392
Fax:86-371-86616825
Email:sarah@aluminium24.eu
New design aluminum led strip for decorations application
Time:2018-06-20
Aluminum led strip is suitable for rigid and flexible LED tapes / LED strips with high standard of anodizing aluminum surface
Opal cover, placing/removing from the front on click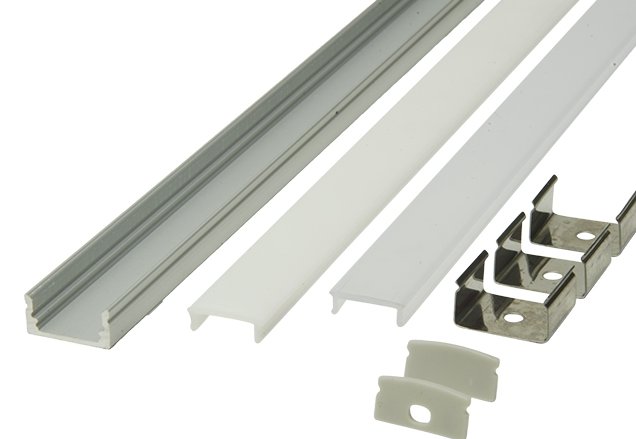 The surface processing of led strip aluminum profile:
Mill finish, Powder coating, Anodizing, Sandblasting,brushed, polished etc.
Deep Processing of aluminum profile for led strip:
Cutting, Drilling, Punching, CNC machine,Threading, Bending, Welding, Lathe etc.
Package:
According to customer's requirement. Such as: Foam paper and carton box package, Kraft paper package, Plastic film and the Plastic wrap package etc.
Feature of aluminum profile for led strip:
1. Easy for installation;
2. Low Power Consumption, high intensity;
3. Solid-State,High shock/vibration resistant ;
4. Waterproof Material: Casing tube /Silicone glue /epoxy resin glue;
5. 5m/reel be packed in an anti-static PVC bag (vibration resistant);
6. Anti-oxidation, anti-UV radiation and won't change color after long time use;
7. High flexibility ,high transparence, flame-proof and environmental friendliness;
8. Silicone material offers good heat or cold resistance and is not easily broken;
9. With silicone transparence waterproof connector can easily connect and totally waterproof;
Application of aluminum profile for led strip:
1. Architectural decorative lighting and backlighting for homes, hotels, marketplaces, bars etc;
2. Auditorium walkway lighting, outdoor illuminated signs and advertisements;
3. Illumination lighting using business walkway, canopy, stairway lighting, amusement park;
4. Channel signal lighting for stores, restaurants, bars, etc;
5. DIY lights for home use.
Return to the list page