Add:No.14 Shangwu Outer Ring Rd, Zhengzhou, China.
Tel:86-371-65621392
Fax:86-371-86616825
Email:feedom@haomeicn.com
Aluminum rolling shutters strip
Time:2021-06-28
  Aluminum rolling shutters strip is of 3003 H16, 3005 H26 or 3105 H26 alloy, 0.21mm to 0.6mm thick, and 80mm to 1600mm wide. The most popular thicknesses include 0.21mm, 0.22mm, 0.23mm, 0.25mm, 0.26mm, 0.27mm and 0.3mm, and lengths 118.8mm, 127mm, 133mm, 138mm and 187mm. The coating is usually PE 2 coats with abrasion-resistant painting and back coat of Epoxy Primer.
  Compared with ordinary rolling shutter doors, doors made of aluminum rolling shutters strips have considerable advantages in appearance, environmental protection and safety. The surface of the aluminum alloy rolling door can be sprayed with various colors and patterns according to the decoration style and the owner's preference, and can even be coated with wood grain and sand grain. A coated aluminum strip has a sense of unevenness and noble temperament, which improves the grade of a door and makes the shop or garage look more attractive.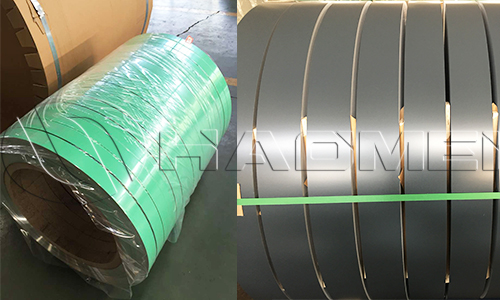 The excellent processing property aluminum rolling shutters strips enables people to make doors of unique structural design that can effectively prevent strong light and ultraviolet radiation, completely solve the greenhouse effect caused by sunlight, adapt to various climate and weather changes, and have long-term protection for the indoor space.
  In addition, rolling shutters made of aluminum strips beat traditional doors in eliminating noise. In order to improve the sealing performance, aluminum doors can be sealed perfectly by various sealing strips. Aluminium has such good mechanical properties that aluminium strips go well with kinds of sealing strips.
  The price of Haomei aluminum rolling shutters strip varies from specification to specification. Welcome to send an inquiry!
Return to the list page