Add:No.14 Shangwu Outer Ring Rd, Zhengzhou, China.
Tel:86-371-65621392
Fax:86-371-86616825
Email:feedom@haomeicn.com
Aluminium trim strip for channel sign letter
Time:2021-07-13
An
aluminium trim strip for channel sign letter
is a color coated narrow winded aluminium roll processed from aluminum ingot bulks and relative coloring materials. A regular coated
aluminum strip for channel letter
, for example, is coated with PE or PVDF paint on the surface. In other words, it's a roll slit from coated aluminum rolls of given alloys and thicknesses. Alloys for the aluminum strip for channel letter include 1050, 1060, 3003, 3105 and 5005, tempers H24, H26 and H34, and thicknesses 0.5mm, 0.6mm, 0.8mm and 1.0mm. Inner diameters for the strips are 150mm, 400mm and 500mm. The strip can be 30mm to 500mm wide, and customized specifications are acceptable.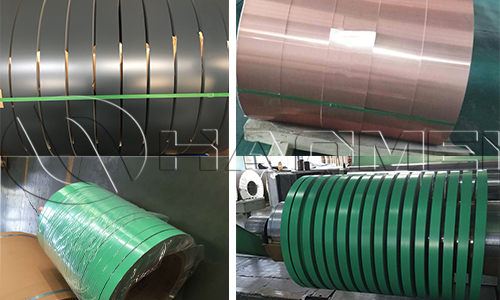 In addition to color coating, the surface of aluminium trim strips for channel sign letters can also be brushed, anodized and mirrored. The brushed strips have a surface with lines like hair. the anodized strips have a hard and durable protective film on the surface, and the mirrored strips have a much higher reflectivity than regular channel letter strips. Each type of strips has its own features. The color coated strips are rich in color choice, brushed strips good in metal sense, anodized films long in service life and mirror strips bright in surface. Generally the color coated trim
aluminium strip
for channel sign letter is the most popular and cheapest.
Aluminum trim strips are used in channel sign letters because of its light weight, good corrosion resistance and excellent processing properties. The price efficiency is satisfying, too. Welcome to contact us for a price!
Return to the list page