Add:No.14 Shangwu Outer Ring Rd, Zhengzhou, China.
Tel:86-371-65621392
Fax:86-371-86616825
Email:feedom@haomeicn.com
Brushed aluminum strips for sale, 20y supplier, Haomei
Time:2020-08-24
  Brushed aluminium strip specification
  Alloy: 1050, 1060, 1100, 3003, 3004, 5052
  Temper: O-H112
  Thickness: 0.02mm-4mm
  Width: 20mm-1200mm
  Surface treatment: brushing, hair drawing
  Application: lighting decorative strips, blind strips, channel letter strips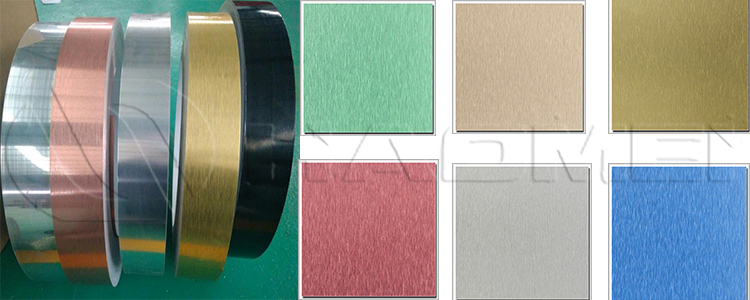 Brushing is a kind of repairing process. Because there are process marks on the aluminum strip surface, small marks (reducing wall thickness) are made on the whole surface by a wire drawing machine, which is better not to be used (there is work hardening after processing, which will change the performance). But the scratch is not easy to avoid, so commonly used wire drawing process not only has the function of removing scratches on the surface of aluminum strips, but also has the function of beautifying the appearance surface of decorative aluminum strips.
  Brushed aluminum strips are usually used for decoration and channel letters. The brushed lines are usually clear and regular, horizontal to the edge of the strips. The purpose of brushing an aluminium strip is to make its surface more beautiful and decorative. Although the surface is not smooth, it becomes rather even during the brushing process. In addition to channel letters, brushed strips are applied to furniture ornament stripes, clothing and bagging labels, office partition cladding etc.
Return to the list page