flat aluminium nose strip
  A flat aluminium nose strip is mainly used for medical masks, disposable masks, dust masks, non-woven masks or toy support and pocket sealing. It should have smooth surface, no burrs, round elliptical corners, and it must be easy to bend and shape, perfectly welded with non-woven materials and environmentally friendly materials. As a rigid strip inside the mask, it plays a role in supporting the fit between the mask and the nose bridge. Nose bridge strip is also called plastic strip, nose bridge rib, nose bridge line, iron core nose bridge strip, all-plastic nose bridge strip, and shaped strip. It can make close contact with the corresponding parts of the wearer's face, and can effectively block dust, smoke, flu viruses, etc.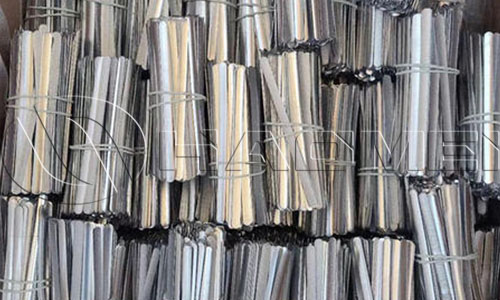 Haomei supplies flat aluminium nose strip of the following specifications:
  Product name: aluminium strip for n95 face mask
  Alloy: 1060, 3003
  Temper: O
  Surface: mill finish
  Thickness: 0.4-5mm
  Width: 90-100mm
  Standards: EN149:2001, GB2626-2006
  Material property: environmental friendly
  Color: The normal color is white, other colors can be customized.
  Application: Masks of N95, N100, R95, P95, 9000, FFP2, FFP3, etc.
  Haomei is a professional aluminum strip supplier specialized in aluminium manufacturing for 31 years. Last year we not only shipped large quantities of face mask aluminium strips to overseas buyers but also sent thousands of masks to our clients confined by Covid-19.
Original source: https://www.aluminumstrip24.com/news/flat-aluminium-nose-strip.html
Tags: flat aluminum strip,
Previous: Aluminium strip sizes
Next: Thin aluminum strips for face masks